Boldman is the UK supplier of the Paletti modular aluminium profile system. By using advanced production technologies, our range of over 270 aluminium profiles and hundreds of accessories provide economical solutions for design, manufacture and construction.
The smooth clean surface of the anodised aluminium profiles, provides a smart modern appearance with simple, fast assembly with no welding, alignment or painting requirements.
WHAT ARE THE BENEFITS OF THE SYSTEM:
Extensive range of aluminium profiles and accessories
Profile sizes from 20x20mm to 160x160mm
Simple fast assembly and disassembly
Reduced design costs
Short processing time
Low construction times
Reduced production costs
Boldman's innovative use of the aluminium profile system in design and manufacture makes us the supplier of choice for customers in the nuclear, oil & gas, aerospace, automotive, pharmaceutical, research and other manufacturing-led industries.
Paletti aluminium profile catalogs PDF's
Customers can search for STEP files and information on our parent companies website.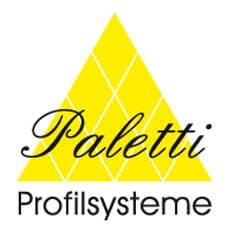 Need more info?
Further product information and CAD/STEP files can be found on the Paletti website.
Please click the link below
Visit Website