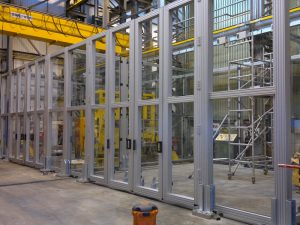 Boldman, UK, explains how a new design of ballistic test cells is allowing operators to test equipment in safer conditions.
As oil and gas developers explore ever greater depths and ever more inhospitable environments in the search for hydrocarbons, subsea structures will only evolve in one direction: bigger and higher pressure.
Offshore components such as trees are critical, given how high the stakes are in the event of failure. Indeed, with the potential environmental, financial, safety and reputational risks, failure is not an option.
The business of testing components such as high pressure small bore pipework and fittings is therefore essential.  Traditionally, this type of testing is done by sealing the test subject inside a large metal enclosure, pressurising it to the point of failure, and using CCTV and a screen to capture the resulting destruction.
These metal enclosures, however, are extremely heavy and expensive to ship to location, especially given the increasing remoteness and inaccessibility of many of the developments. More to the point, however, CCTV does not allow the test engineers true 360˚ visibility on what is actually going on in the test.
Industry feedback
Indeed, the number one demand heard in feedback from the market was for the simple ability to see the test first hand. Not only do the developers' engineers want to be able to view the equipment and what happens to it under simulated extreme conditions, but there is also the invaluable client relations benefit of being able to invite visiting customers to witness testing of their subsea trees.
Other requirements and requests that came to light as a result of enquiries in the market were as follows:
Supervisors wanted to be able to monitor and protect personnel during high pressure testing of trees, for example they wanted to be able to check if anybody had wandered into the cells prior to testing taking place.
Clients wanted a clean and environmentally lower-impact working environment. Metal test cells require power for their internal lighting and CCTV set-ups, and the process of shipping across the world and installing them on-site requires, as well as the aforementioned cost implications, an energy-inefficient process.
Ballistic testing
So how could a manufacturer like Boldman solve these problems? Would it be possible to develop a transparent test cell that could answer all of the industry's requirements?  Would such a product be able to withstand a strike impact from a fitting failure travelling possibly at ballistic speeds from a tree under test at up to 30 000 psi?
The answer is yes, and this has been demonstrated  in a series of tests: the latest designs of clear test cells, using BR2 safety glass, have been proved in tests to be able to withstand first series of Magnum/Walther handguns with jacketed rounds, and next the actual fitting that the oil industry recommended would be the most likely to fail and impact.
By using an air cannon to fire a ¾ in. stainless steel Butec fitting, weighing 160 g (6 oz) at speeds of up to 200 m per second (440 mph) – equating to an impact of up to 2000/3000 kg and beyond, or 4400 lb/6600 lb – it was proved that the glass withstands these impacts, shattering only on the inside face of the glass panel. The outer face of the panel has an anti-spall film that is moulded in during the glass making process. In both types of test the projectiles were defeated with no ejection of spall that could injure operators during testing.
The cell in question is a modular structure manufactured from Boldman's Aluminium Profile System, with clear BR2 safety glass which is produced by bonding glass and polycarbonate together under heat and pressure, resulting in high optical quality and spall free protection. Each cell is customised to the individual client's requirement, for example they specify the pressure, type and size of components they wish to test. This solution is rapidly catching on in popularity, and is already in use in Nigeria, Angola, Norway, Malaysia, Ivory Cost, USA and UK; by clients including FMC, GE oil and gas, Chevron and OneSubsea.
 History
The history and technological development of test cells in fact date back as far as the 1980s, when Boldman was involved in producing small cells using a double layer of 8 mm polycarbonate. More recently, while on a site visit in 2011, Boldman representatives were shown an area that was barriered-off because it contained a tree that was under test at 15 000 psi – it was simply not possible get close enough to actually see the test. A discussion with senior management over prior experiences with the use of polycarbonate and aluminium profile soon led to the question of whether test cells could be manufactured from these materials.
Boldman was given a specification to work to and after several months of research with glass companies and designing a structure from the aluminium profiles a design was eventually produced to meet the client's requirements. The first cell that the company manufactured and installed is still very similar to today, but the crucial difference was the subsequent development of a modular design, which has brought significant benefits for a number of reasons.
Firstly, the modular design allows individual panels to be quickly replaced as and when an impact damages the inside of the ballistic glass.
Secondly, it is in keeping with many clients' own modular design process. Developers in the oil and gas industry like to be able to install and replace only what is needed, in order to fulfil efficiency targets.
Thirdly, it allows for major cost savings both in terms of shipping the cells to site, and assembling them on location. Glass cells are lighter and their modular nature makes them more cost-effective to deliver all over the world by air or ship. They are then quick and easy to install on site: one of Boldman's team of fitters will be able to give fitting instructions and guidance on how to install the cells. This saves time and means no added expense of having to send labour or personnel over from the UK.
Specifications
Cells now available on the market worldwide are a reconfigurable manufacturing system that can be flat packed and custom designed to a maximum size of 12 m x 12 m x 9 m high with specialist sizes available.
The cells come complete with twin bi-fold doors (maximum opening of up to 8 m wide) for stacker truck access, tree mounted trolleys pushed in via a Mastermover or floated in via crane. The design of special door hinges and castors means that these bi-fold doors can be easily moved and locked in position to withstand the required impacts.
The bespoke glass clad polycarbonate is tested to BS En 1063 BR2 NS, and the entire assembly does not only meet Health and Safety Executive standards for test cells, but it exceeds them by a factor of three.
The company has designed a pneumatic only, safety interlock system that sits before the high pressure unit (HPU) that increases the pressure up to plus 22 500 psi, should any of the access doors not be armed, the HPUs will not work, also should a door be forced at any time the high pressure inside the cell will be dumped. This system was designed for developing countries where electrical interlocks are rarely in use. The pneumatic control system does however have a simple electrical connection for red and green beacons to be mounted to warn people if the cell is under test or is clear to enter.
The future
Naturally the development of products such as these will have to keep pace with the evolution of the industry. Pressures will increase, both literally and figuratively.
Current client requirements are generally around a limit of 22 500 psi: that is they test high pressure small bore pipework and fittings under pressures of up to 22 500 psi, which means that in order to guarantee performance of the test cell in these conditions they have to test to 1.5 times this limit.
Because Boldman's cells are all currently tested to 50 000 psi, this means that clients can use them for tree test pressures of up to 34 000 psi. Our next step is to be rated to 60 000 psi, which they expect to achieve very shortly.
Testing taking place on fittings weighing up to 1 kg (2.2 lb) has been successful so far.
The cells can be fitted with a non-ballistic roof for air conditioning in extremely hot countries; in design at the moment is a ballistic roof.
One thing is for certain; the future will still be modular. It is this method of manufacturing and assembly that has allowed the testing of subsea structures to be revolutionised. This flexibility, ease of shipping and installation, and ability to configure and customise, will mean that the product can continue to evolve to meet whatever tomorrow's oil and gas client demands.
There is no doubt that there will continue to be a demand for clear test enclosures. Unfortunately, there are still a number of serious incidents that happen on a global basis annually, so health and safety within the oil and gas industry will always remain paramount. Whether in third world countries or developed countries, to be able to see what is being tested in complete safety is a significant leap forward.
Reprinted from December 2015 Oilfield Technology