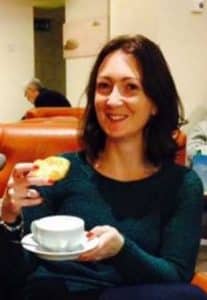 How long have you worked at Boldman?
 It's actually just been a Boldman anniversary for me – I've been working here six years now.
Typical day at Boldman?
There's a lot of variety here day-to-day, but I deal with enquiries and do a lot of meet and greets with all of our visitors. We get a lot of interesting people here, customers from the UK and overseas and journalists, are all regular visitors to our premises in Bolton. I get to meet different types of engineers like aerospace and nuclear engineers.
As we export our products globally with customers around the world, we need to arrange a lot of travel, and that's my area, especially things like sorting out visa requirements.
I'm also quite heavily involved in the marketing side of the business, liaising with our PR company on any articles or features we're working on.
Favourite project?
I enjoy going into Manchester with friends and family and it's great to walk past the Printworks and be able to point out the big screen that Boldman created.
I'm also very proud of a magazine feature that I helped write about test cells. It was a world first project, and the article about Boldman's innovation got lots of interest. It was a great feeling to see the three page spread in print, and we even got a customer enquiry off the back of it!
Last book you read?
I rarely get a chance to read apart from when I'm on holiday! The last book I read was a book my uncle wrote and recently published. It's a factual book based on my granddad and his best friend's experiences during World War Two. He served in Burma in the Black Watch regiment. It was a really interesting book to read – my granddad got shot and luckily survived. There were a lot of stories he used to tell which are now in the book.
Favourite film?
It has to be Dirty Dancing – I can watch that film again and again!
First single you bought?
I can't remember what the first single was, but I remember the first cassette I bought. It was a compilation album – Now 1985. It had songs from bands like the Bangles and Wham!
What do you like to do in your spare time?
I spend a lot of time with my family, I have a sweet tooth and love to bake. I have two children, a boy and a girl aged eight and twelve. They keep me busy!
I also go out running three times a week with a friend. We do about 5K and we're really enjoying it at the moment. My sister keeps saying we should sign up for a big run, and I think I will at some point in the future, but I'm not at that extreme level yet!
What would you take on a desert island?
I would definitely take food and drink. The other thing would be a boat. That way I could enjoy myself and then leave the island as soon as I'd had enough…