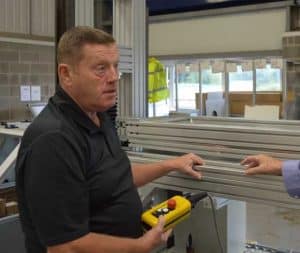 Position at Boldman?
I'm a workshop supervisor at Boldman – I applied there after hearing of a vacancy, and I've now been there for fifteen years!
What does a typical day at Boldman look like for you?
No day at Boldman is the same for me, but in a single workday I will usually be in contact with our suppliers, arrange any necessary transport and sort out delivery to customers. I also make sure that there are no issues with the CAD drawings, oversee the production in the workshop, and order stock.
What has been your favourite project?
My absolute favourite has to be the T5 Heathrow screens that we created. The whole process from start to finish, right from the first drawing to seeing it switched on and working, was a great team performance from everyone at Boldman.
Favourite book?
I like In Search of Duncan Ferguson: The Life and Crimes of a Footballing Enigma. An old –school footballer, Everton legend and his life story is fascinating, they don't make them like Duncan anymore!
Favourite movie?
The Shawshank Redemption – it's a classic!
What was the first single you bought?
The Elgins – Heaven must have sent you.  This was back in 1974…
What do you like to do in your spare time?
I like deciphering word searches, and walking our family cocker spaniel. He's called Rocco and we got him when he was a puppy. He's 14 months old now.
And finally if you were stuck on an island what three things would you bring?
I would keep my fingers crossed that the island would be Tenerife… Then I'd pack my Ipad, some sunglasses and some euros to buy me plenty of Dorada beer to keep me going!