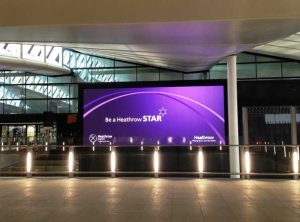 Boldman have been recognised for the aluminium structures on the two biggest outdoor airport screens at Heathrow Terminal 2.
UK based aluminium structures manufacturer Boldman and AJAR-tec installed the screens which are used for advertising to 55,000 passengers travelling through Heathrow Terminal 2 each day.  These 11.5m x 4.8m screens weigh 4.8 tonnes each using Paletti aluminium extrusions.  This is the perfect material for this type of project, it is strong, lightweight and allows for extreme accuracy in ultra-precision manufacturing.  Boldman were able to assemble and install on site resulting in a super high resolution visual display with no visible distortion.
Owned by Heathrow Retail, the screens will be operational throughout the year for advertisements from brands to generate revenue for the Airport business.
If you would like to read more please see the full article in airport-technology.com